This non-fiction novel by T Martin Bennett is a phenomenal read. Every chapter is captivating as Bennett reweaves the tapestry for us of lives touched by war... and by God. If you enjoyed Unbroken by Laura Hillenbrand, Wounded Tiger is a MUST READ. And with the times as they are now -- with our soldiers over in Afghanistan and Iraq -- this book has never been more timely in its arrival. Masterfully written and gut wrenching in its depiction of pain, hatred, loss, and forgiveness.
Julie Kovacic
Amazon.com Review
If this were purely fiction, it would be an inspiring story of war, hatred, cruelty, and redemption. That it is true makes it one of those stories the MUST be read. When I finished the book, I exhaled, said "wow!" and woke up my wife to tell her that she HAD to read the book. Amazing. Simply amazing.
Jim Kaucher
Amazon.com Review


Reading this powerful book about love and forgiveness overcoming war & hatred has caused a lasting impact on how I view life. I highly recommend it.
Carolyn Sugiyama Classen
Editor, Southern Arizona
Japanese Cultural Coalition

I thought it was amazing. The whole time I was reading it, I honestly felt like I was watching it on screen. It was an extremely enjoyable read. Thank you for that!
Jessica Putney
Realtor
Wounded Tiger is a nonfiction novel of the true story of the pilot who led the attack on Pearl Harbor whose life was changed by an American prisoner and by a girl he never met.
Not a war story, but a character-driven story that takes place during the greatest war ever fought, the extraordinary lives of Fuchida, DeShazer, and the Covells are ultimately woven into one story.
This four and half minute book trailer will give you a good idea of what the story's all about. Enjoy ... (Yes, that's me. I shaved my beard, got a 1940's suit, and went back into time.)

Martin, holy smokes! This is a darn good story! It's woven together seamlessly and all of the characters are truly likeable. It's such an amazing story that people need to first understand that it's TRUE. This is a great book and would be an even greater movie. Gotta say, I'm impressed.
Dan King, Author of "The Last Zero Fighter"
Pacific War historian, Japanese language
& cultural consultant for films & documentaries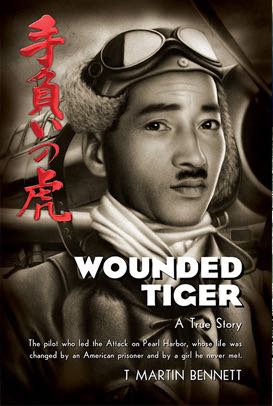 Dear Mr. Bennett:
I have read the complete book manuscript. I like the cover which contains the strong face of the young pilot with a full expression of enthusiasm. He is a tiger. He was born in the year of the tiger. You described my father's posture and behavior so well and so precisely, I could feel his presence.
He remains a national hero in Japan. I have no idea how the world accepts him today. Some will call him a villain, others will call him a proud warrior who found redemption. I will always admire his guts, his intellect, and his sincerity.
God bless you and your work.
Yours cordially,
Miyako Fuchida Overturf
(Daughter of Mitsuo Fuchida)

This story was gripping and enthralling – when I picked it up, I couldn't put it down. I ate up the pages at a rate that surprised me, and it seemed no sooner would I start a page than I'd be turning it. When I'd completed the story, I felt moved. It's an amazing read.
Josiah Austin
Student

Your research and narration mesh history with characters who breathe. Wounded Tiger held my full interest. Your research, descriptions, and unfolding of these personalities paint portraits of people who are real! The coincidences that entwine their lives unravel a poignant story that binds minds to hearts and hearts to souls. The Japanese viewpoint, the timing, and the character development all soared. What a story!
Sue Schley
English teacher

The story of Mitsuo Fuchida and his transformation is one of the most gripping stories of WWII and the Pacific War, and it's a story that few have heard about. Martin Bennett's new book, Wounded Tiger, brings this epic drama to life with new details on how a Doolittle raider, Jacob DeShazer, and a missionary's daughter, Peggy Covell, helped effect this change. This thrilling story of war and forgiveness is a must for all.
Don M. Goldstein, PhD
Author or co-author of "At Dawn We Slept: The Untold
Story of Pearl Harbor," "Miracle at Midway," "God's Samurai: Lead
Pilot at Pearl Harbor," "Dec. 7, 1941: The Day the Japanese
Attacked Pearl Harbor," "Return of the Raider: A Doolittle
Raider's Story of War & Forgiveness,"
and many others.
Wounded Tiger was originally written as an epic screenplay and that vision is being vigorously pursued. One studio offered to option the screenplay and significant investors are considering the picture. To get an idea of what the film might feel like, watch this 2-minute "sizzle reel" made from existing films. Click the image and make it BIG and LOUD.


Casey with Brad Pitt on the set of "Moneyball," where he played a key supporting role.
My thoughts on Wounded Tiger? I LOVE IT. I beyond love it. I don't aim to deliver this lightly when I say that this story COMPLETELY encompasses why I feel I'm in this industry today. I want to be a part of projects that are far bigger than me or any of us.
Casey Bond
Actor
(Reader of the screenplay version)

The transmittal of your spoken word resonates as a talking story. I found myself right 'there.' What you've done was inject life and emotion into a part of history either long forgotten or unknown. I commend your perseverance, your passion and most of all, sheer guts to bring this story of forgiveness to life. People can and do change. It's often a mystery as to how or why. It's their story. By the time I read the last line, my life in ways changed also. I look forward to seeing this on the silver screen. It will be an inspiration to many and will leave the audience absolutely breathless.
Deborah Tokarz
Producer / Writer
To read more reviews, click here.
Email us at the following addresses:
Media inquiries: Alicia.Auping (at) TheAgencyAtBB.com or Brian.Briscoe (at) TheAgencyAtBB.com
Bookstores: Cathy.Williams (at) BrownBooks.com
Contact Author: author (at) woundedtiger.com